A Nigerian woman, identified as Olajumoke Ashabi Ade on Facebook, has called out a man who she says 'priced' her for N20,000 like a commodity.
She shared a screenshot of the messages the man sent her on Facebook and lambasted him for allegedly putting a price tag on her.
According to the chat, the man said he liked her stature but she didn't respond to his message. Thereafter, he sent a follow-up message and wrote 'N20k'.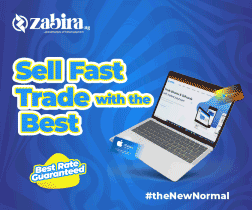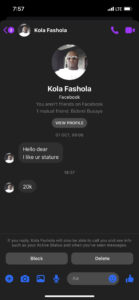 In reaction to his messages, she wrote,
"Thunder fire u Nd ur 20 k!!!!!!!!! So I don turn to commodity wey u dey price??? U think ur 20k can buy me!!!!!!!! Am not a lazy gal ooooo, I work hard, I don't depend on guys for my source of living!!!! Set awon ologun owo!! U want to renew abi !!!!!If u ever come to dm nd spill rubbish na Thunder go fire u!!! !!!! Admin dakun approve ASAP!!!! I just read it ni !!! Cos I hardly attend to my dm!"
RECOMMENDED ARTICLES