A bride from Northern Nigeria has caused a stir on social media after she recreated the wedding entrance scene from popular romantic comedy film, Crazy Rich Asians.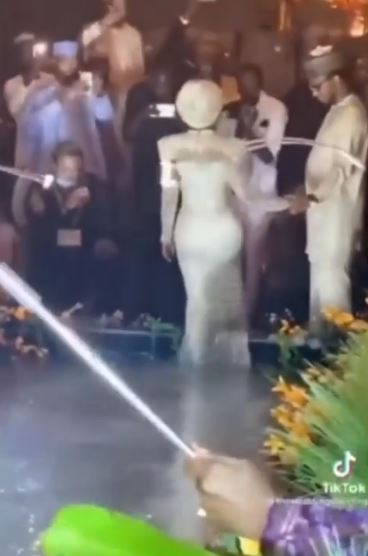 A video from the wedding is currently serving rounds online and has sparked reactions from netizens.
In the video, the Nigerian bride is seen walking slowly through water as the theme song "Can't Help Falling In Love" played in the background, just like the movie.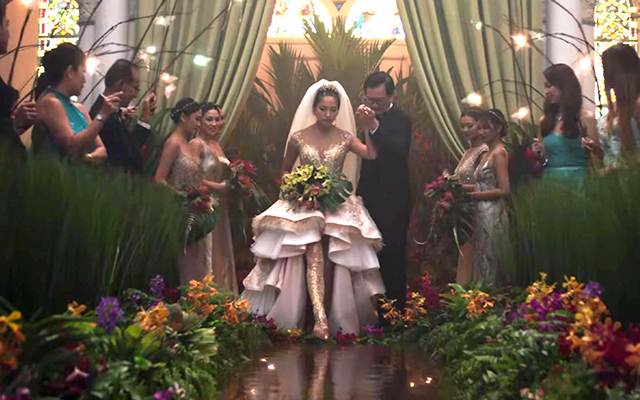 When she got to her groom, he helped her out of the water and pulled her wet train which was dripping wet out of the water.
The spectacular wedding entrance has received mixed reactions on social media. See some comments below,
An Instagram user wrote, "Its her wedding its her choice, I wish her a happy home 😍"
@rukky_black wrote, "Beautiful entrance…. Do what please you when u know u deserve it😍❤️"
iam_clarabankz wrote, "If this was what I saw in the movie biko I no wan watch am again"
latasha_lagos wrote, "The OCD in me can't stop thinking about who will mop that floor😩😩😩
How about her shoes? Are they wet? Won't she catch a cold? Etc!"
milly_posh wrote, "I go con wet my dress just for wetin na .. anyways it's beautiful for her"
See below.
RECOMMENDED ARTICLES