ast-rising Nigerian singer, Ayra Starr, has recounted how a male fan made her laugh so hard that she almost dropped her mic on stage.
According to the 'Bloody Samaritan' crooner, she was dancing while performing on stage when her eye locked with a guy who was in the audience.
The guy then made a comment about her butt which made her burst into laugh that she almost dropped her mic.
Narrating the hilarious incident on Twitter, she wrote,
"I locked eyes with someone in the crowd while dancing and the next thing this guy said is small yansh dey shake oo. I had to hold myself to not drop the mic and laugh. I didn't deserve that tbh".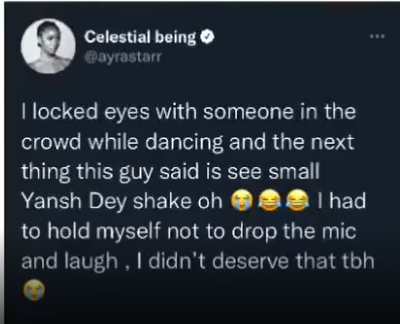 Watch video below,
Meanwhile, Ayra Starr put on quite a show for her fans at the University of Benin, as she took off her jacket while performing on stage.
The lovely songstress who is signed under Don Jazzy's MAVIN record label, stormed the campus of University of Benin, to put on an electrifying performance for the students as she sang some of her hits songs, most especially "Bloody Samaritan."
Ayra is undoubtedly one of the country's next rated acts was filled with so much energy while performing, as students could be seen screaming and singing along to her songs.
Ayra, in course of her performance, took off her jacket and threw it into the crowd, much to the excitement of her fans… the act left her top body clad in just a black bra.
A fan cried out on her page saying they punched him in his face when he tried to catch the jacket.
RECOMMENDED ARTICLES