Cameroonian-born singer and businesswoman, Reprudencia Sonkey popularly known as Dencia, has said it's stupid for rich married men to be caught cheating.
Taking to Snapchat, Dencia advised such men to simply tell their wives/girlfriends that they want an open relationship instead of playing hide/seek with their extramarital affairs.
According to the 33-year-old singer, most women would gladly accept their husband's terms especially if he is rich.
She wrote,
"Men who get caught cheating are sloppy AF especially the rich ones. It's simple tell your girl you want an open relationship or your wife, sign, polygamy & that's it. All this hide & seek when it's your body your choice is stupid AF.
You got money; most you marry and date desperate broke villian girls who won't say no, trust me. They love you for the $$ so anything you say goes, stop looking like the villian when u can be the Hero & live ur hoe life freely."
See below,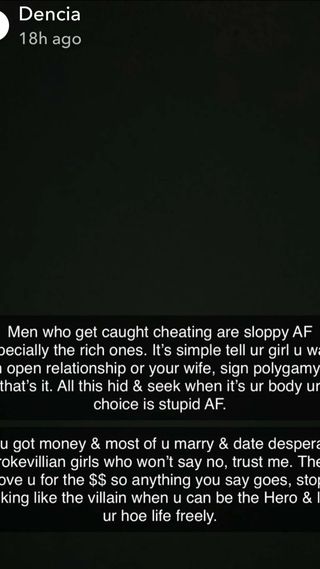 RECOMMENDED ARTICLES