A Nigerian businessman, identified simply as Olatunbosun, has revealed the real reason why he bought his wife a car.
In a post he shared on Twitter, the travel consultant disclosed that he encouraged his wife to take driving lessons and get her driver's license.
According to him, he also bought her a new car presumably out of love, but the real reason he got her the car was because he was tired of going to the supermarket.
It is believed that the Cyprus-based businessman was tired of running errands for their home and thought it best to get his wife her own car.
He tweeted, "Pushed my wife to learn how to drive, get her license, got her a car and all that, it's all love from this end. But truly, na because i don taya to dey go supermarket."
See his tweet below,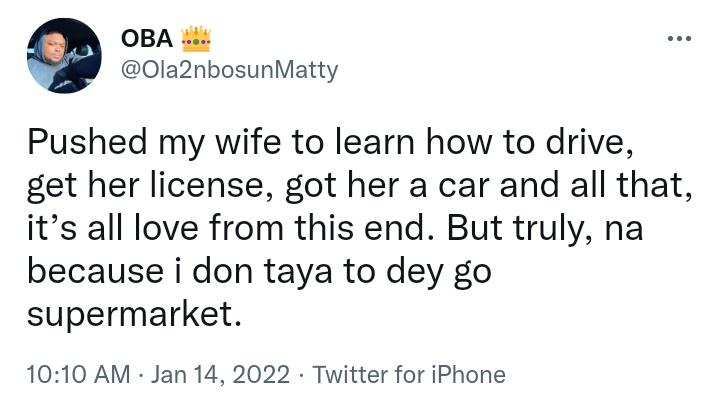 A while ago, a Nigerian gentleman took to Twitter to share how the absence of his spouse causes him to go into existential crisis and surprisingly, quite a number of other husbands could relate to his state. Read the full gist here.
Twitter user, @Chukwuemekazee took to his page to share how anytime his wife leaves the house, it feels as though his life has lost purpose. He wrote,
Anytime this woman leaves the house it's just as if my life has lost purpose. Is this how the marriage thing is??
Continue reading here.
RECOMMENDED ARTICLES