A Belarusian woman who lives in Nigeria, has put a huge smile on her house help's face after she paid her children's school fees.
The white woman whose Instagram handle is @white_in_africa, took to the platform to share a video of the moment she told the maid about her grand gesture.
It was gathered that the woman discovered that her house help was having issues with paying her children's school fees and decided to step in.
The woman who runs a Russian blog, said some of her followers donated towards the children's school fees for two terms, including their school books and snacks.
In the video, the househelp couldn't contain her excitement at the magnitude of her boss's help that she screamed for joy and lifted her from the ground and twirled her around.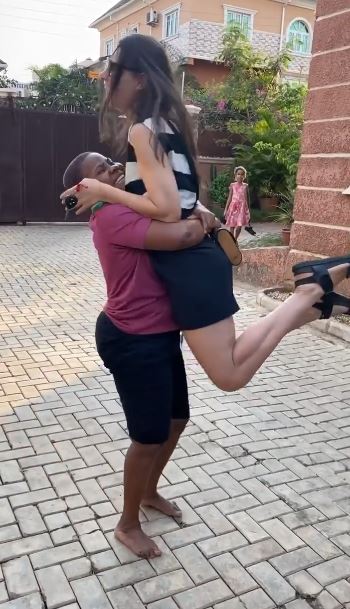 The latter part of the video shows the househelp expressing her gratitude to the well-meaning people who donated the money.
Sharing the video, @white_in_africa wrote,
"Vivian is strong! In every sense! We are women!
Thanks everyone.
Now Vivian's daughters can go to school without any problems until the end of July – that's 2 semesters.
I also bought them all the necessary textbooks, notebooks, etc. with your money.
And for the rest of the money – juices, cookies and fruits for the girls for school."
Watch the heartwarming video below,
RECOMMENDED ARTICLES