A video making rounds online captures the moment a 23-year-old man, Mark Njuguna, killed his four-month-old son in Gatanga Murang'a, Kenya.
In the disturbing video, the man is seen beating his wife, Mary Muthoni, with a belt while their baby was crying on the floor. Suddenly, he made for the infant and his wife tried to stop him but he shoved her off. He went on to grab the infant by the hand and threw him over the sofa.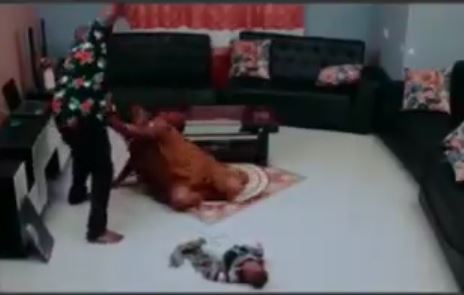 His wife tried to run towards the direction of the child to help him but he stopped her and continued beating her. It was gathered that the infant died after landing on the concrete floor.
The incident reportedly occurred in the early hours of Tuesday morning, January 25, and the suspect has been arrested by the Kenya Police Force.
According to Mark's father, Samuel Kiguro, he was woken up by the bereaved mother around 2:45am after the incident occurred. He said she managed to flee from the house after her husband threatened to kill her if she raised an alarm.
Although the details are still sketchy, it is believed that the couple had a heated argument after the man questioned the paternity of their son.
Kiguro said, "My daughter-in-law came running to my house telling me that her husband has killed their baby boy."
"We are still in shock because we don't understand why he would do such a heinous act and kill an innocent child."
The infant's corpse has been deposited at the General Kago mortuary in Thika awaiting postmortem and the case is being investigated by the police.
Watch the graphic video below,
RECOMMENDED ARTICLES