Nollywood actress, Oma Nnadi and her husband, Noni, are celebrating their fourth wedding anniversary today, February 15.
Taking to her Instagram page, the excited mum of two reintroduced herself to her followers and listed some of her achievements since she got married. She added that her marriage is valid.
She wrote,
"My name is Oma Nnadi.
I am married with 2 lovely kids. My daughter is 3 years and 7 months old and my son is 2 years and 3 months old. I am a movie actor, movie producer, hair entrepreneur and an internet wizard. Today is 4 years my hubby wedded me in court.
Happy anniversary to use my heart, Noni Enem."
"Happy 4years court marriage anniversary to us baby @noni_enem . Slide to see throwback pics and videos . My wedding is valid . 🙏🏽🙏🏽💯" she captioned it.
See her post below,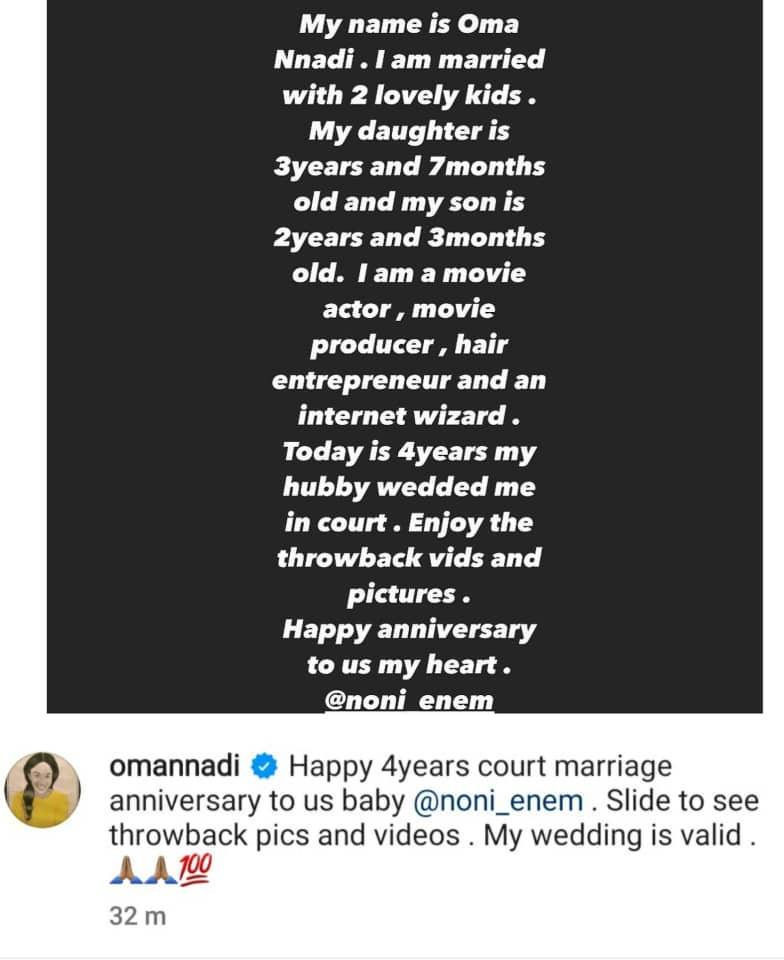 A while ago, Oma Nnadi seemingly reacted to the death of a 19-month-old baby who was flogged mercilessly by his teacher in Delta state.
A 19-month-old baby, simply identified as Obinna, a pupil of Arise and Shine Nursery and Primary School in Asaba, Delta state, died on Saturday, February 12, after he was beaten by a teacher at the school.
Reacting to the death of the minor, actress, Oma Nnadi asked what kind of parents take their one-year-old to school.
"Who takes a one year old to school. To go school what exactly and for what exactly. Please make una educate me? One year old? Inukwa bikonu. Online Lecturers , online teachers , food is served . One year old to school ? Call it whatever , daycare, kindergarten, crèche or whatever , you call it .. one year old???? Hmmmmm". She wrote
RECOMMENDED ARTICLES