A Nigerian man has caused a major stir on social media after sharing a video of his transition from a man into a trans woman.
The man, identified as @Folafrancis on TikTok, took to the video sharing platform to share the controversial video and it has gotten people talking online.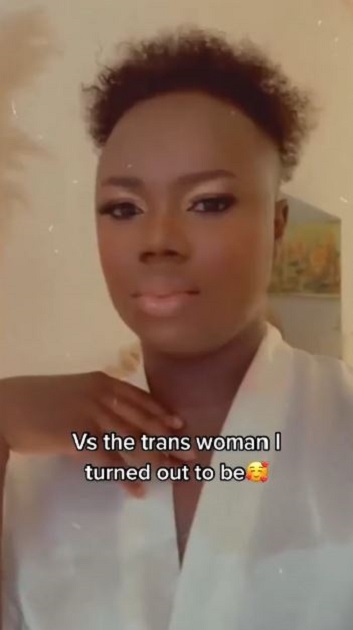 According to him, his parents thought they had a straight son but he turned out to be a trans woman.
In the video, Fola showed photos of himself dressed as a man, however, at the end, he is seen dressed, walking, dancing and acting like a woman.
Watch the viral video below,
In other news, a heartbroken young man has tattooed a lengthy note on his body after his girlfriend reportedly dumped him.
It was gathered that after his girlfriend broke up with him, the young man inked a lengthy note on his body recounting how he had so much plans for love.
In the write-up, he added that he would not forget her so easily, but as a result of what she has done, he doesn't think he can ever love any girl again.
"I got much plans to love you but never believe I will lose you so soon but can't forget you in a hurry cos you make me discover my talent. you make me amarron the good boy can't love again (fake Love)", the tattoo read.
RECOMMENDED ARTICLES