Popular Nigerian singer, Paul Okoye otherwise known as Rude Boy, has disclosed the staggering amount he now spends to power his house in Lagos.
His shocking disclosure follows the recent increase in the price of diesel and current reports that the national grid has collapsed leading to power outage across the country.
Taking to his Instastory to share the impact of these factors on him, the singer of defunct PSquare music group disclosed that he now spends N1.4 million naira to fuel his generator with diesel. However, he didn't disclose how long the diesel would last for.
He wrote,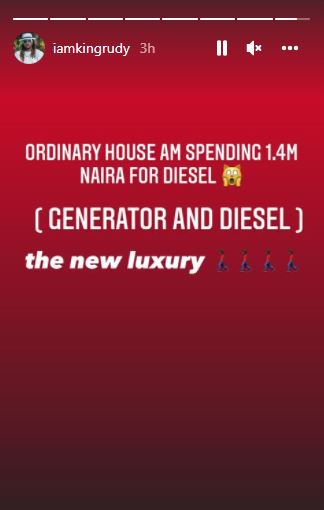 The economic situation in the country has no special treatment in store for anybody no matter the social stratification because it seems as though both the Rich and Poor are currently crying over it.
Billionaire Kid, DMW Boss and Global superstar, Davido recently paid a hefty sum to clear his luxury vehicle and he took to his social media page afterwards to subtly lament on the situation.
Although he didn't disclose the particular amount he paid, those who have a knowledge on how complex "car importation" could get due to financial reasons could outrightly relate with his post.
Davido had tweeted ;
U don't even wanna know how much I just payed to clear my lambo… Pray for nigeria … Jesus
RECOMMENDED ARTICLES