Nigerian singer and younger brother to music producer, Don Jazzy, DPrince has been called out by a DJ, Rachel Oluwabukola Martins AKA DJ Dimple Nipple for allegedly blocking her on social media over her refusal to meet him at an hotel for a work meeting.
The DJ took to her Instagram stories to out the singer, claiming that he had ill intentions towards her when he asked that they meet up at an hotel to discuss the terms for the promotion of his artiste.
She shared a screenshot of their conversation on WhatsApp where Prince had asked if she was available to meet up with him at an hotel and she gave a response giving the impression that she wouldn't be comfortable meeting like that — the singer then gave an alternative, which she was fine with but moments later, she discovered that she'd been blocked by him.
In reaction to this, she took to her IG stories to call out the singer and called him an animal… See her posts,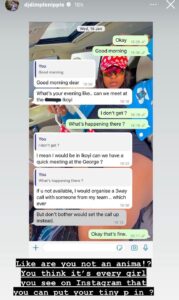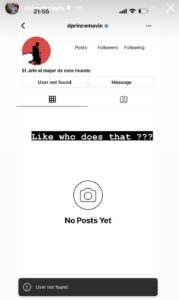 Netizens online however have varying reactions to her call out, with a bunch of people saying from the receipts she shared, there wasn't much of an insinuation that the singer wanted to have access to her body just so he could give her a job.
Read what some people wrote,
He didn't even say anything about sex…but mama think sey dem wan fuck her
Na she see herself like olosho

But meeting in a hotel doesn't mean sex nau,shebi hotel have quite corners for chills and meetings.

Did he drop a hotel room number?my confusion is confused tho.

Where is the sex part??? Where did he ask for sex here?

From your evidence, there was no form of sexual advancement, compliment or discussion but you already concluded that he wants sex cos he asked for a meeting in a hotel that probably have a bar, sit out etc.

So, it's not like he asked you for sex or even implied it? You do know that you can have business meetings at the bar or in the restaurant. The George's got all of those. I think she jumped the gun.
RECOMMENDED ARTICLES