The video of some little children pranking their Nigerian dad has left a lot of netizens in stitches over the man's reaction.
In the video which has since gone viral, the father is seen walking into a room where his children and a lady, supposedly his spouse are in — the kids then show him the TV to let him know the screen is damaged which upsets him.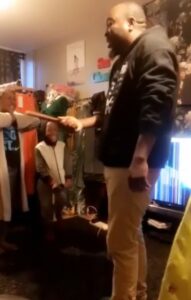 Seeing that they weren't really feeling remorse about damaging the TV, he then walks out of the room to get a wooden stick to threaten the kids with it — they quickly then let him in on the prank to ease his anger. After realizing he was pranked, he's then seen laughing it out and relieved that it's only a joke.
Watch the video as you scroll,
RECOMMENDED ARTICLES