A Facebook user has given a piece of unsoliticited marital advice to newly-wedded Nigerian Actress, Rita Dominic.
The thespian tied the knot traditionally on April 19th, 2022, and her close friends and well-wishers trooped down to her State of Origin, Imo State to grace her big day.
In a video shared online, Rita Dominic can be seen having a fun time with her friends and co-Nollywood Stars which is a normal thing to do before a wedding day.
However, for the facebook user identified as Mr. Fidelis, Rita should do everything to cut off those friends if she wants her marriage to be a successful one,
Mr Fidelis' comment reads;
Hanty, if you want your marriage to be successful cut off everybody that is with you in that room, that is the first step then cut off all your social media advisers, respect and honor your husband like a mini god. This marriage must stand the test of time IJN amen
Below are some reactions to the comment;
Vanessa Juliet wrote;
Some people will just open mouth waaaa they talk rubbish. Ndi adviser.
Somto Nwachukwu wrote;
e say na mini God😂😂. Ndi otu osinachi husband. Cutting off everybody from your wife's life. Because she got married that no one has ever done before she should cut off everybody from her life. I twale for you.
Peace Juvile wrote;
You dnt need to tell her or advice her who to cut ✂️Rita is not a kid and if she waited this long to get married she knws what she is doing and we trust that she will always make the right choices
Younnie Smith wrote;
hummm, something she just choose to be Ng to social media, your ready with advise..you know the relationship history before she should treat him small god??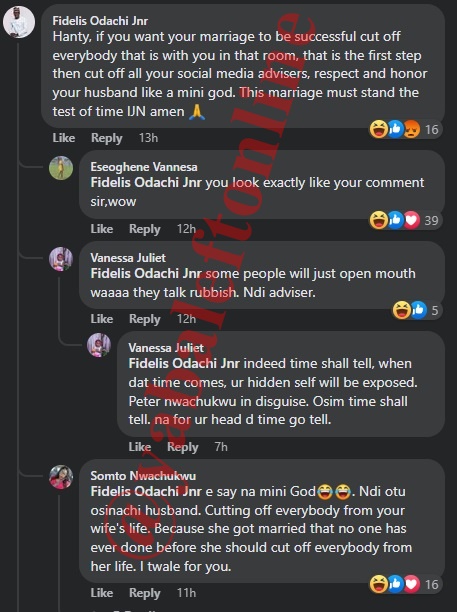 RECOMMENDED ARTICLES