Whether it's for the atonement of their sins, punishment for their crime or just amusement for the people who caught them, this duo of thieves were hilariously made to have a praise and worship session in God's honour after they were nabbed.
While the video has been met with laughter after it was shared online because of the hilarity of the thieves' situation, the punishment for their crime was real albeit hilarious.
According to some news outlets in Ghana, the two thieves were nabbed stealing in the Oti Region of the country and were forced to fit into a barrel, before being asked to sing praises to God.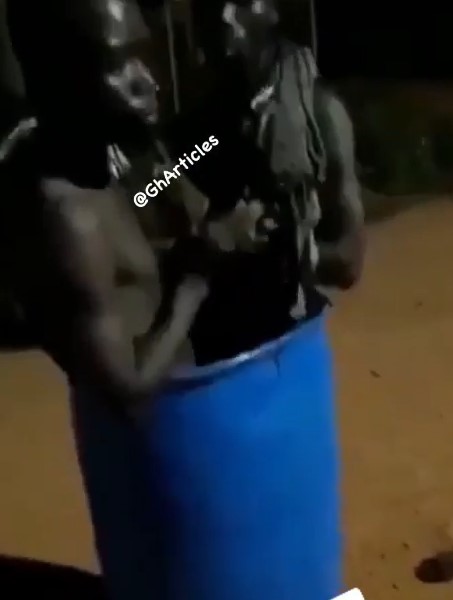 It however is not clear what they were caught stealing, but their video has since gone viral on social media with a couple of netizens okay with the punishment they were given rather than they having a brutal one.
Watch the hilarious video as you scroll,
In other news, a Nigerian man, identified as Maazi Ogbonna Okoro, has shared a picture of two malnourished lions at Jos Wildlife Park.
Taking to Facebook to post the photo, the linguist bemoaned the rate at which the Nigerian economy and system has affected everything, including lions.
In the picture, the lions looked like they could drop dead at any minute from starvation and as the man rightly said, they looked so weak and feeble that a dog could fight with them and win.
"I visited Wildlife Jos where I saw these lions. They were tired to roar. At least I can fight two of them and win. Nigeria happens to everything, including lion in the zoo. The system has humbled the strong animal. Even the dog can fight them and win. I pause." he wrote.
See photos here
RECOMMENDED ARTICLES