A self-proclaimed broke man has ignored the warnings of Nollywood actress, Nkechi Blessing, and confidently slid into her DM.
It was earlier reported that the celebrity warned broke men against sliding into her DM.
She stated that time is very precious to her and she has no intentions of wasting it on having baseless conversations with men who are financially incapacitated.
"You don't have the right to chat with me when you are broke sha oo.. who you want waste her time? My every seconds count bro, ain't ready to waste it on some meaningless conversations," she wrote on Snapchat.
Interestingly, a self-styled broke man turned deaf ears to this warning and still slid into the actress' DM to profess his love.
"I'm broke, but you see??? I no dey hear word, I go chat you if you no reply na you know", he wrote.
Nkechi Blessing shared a screenshot of the chat on her Insta-stories.
See below,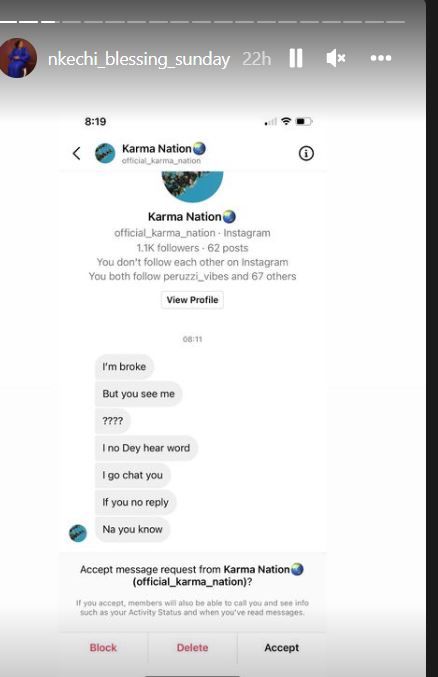 Meanwhile, Nkechi Blessing has said she will never give up on love, no matter how many awful experiences she's had.
The beautiful screen diva, while advising her fans and followers to never give up on love, disclosed that she's never afraid to fall in love.
She claims that if one learns to love oneself, it makes it much easier to love others and allow oneself to be loved.
"Regardless of what goes down, amidst plenty chaos do not forget LOVE is a beautiful thing👌 I have soo much love in me that I am never afraid to fall in love❤️‍🩹 Cus d moment you love yourself more, it becomes easy to fall in love and be loved❤️ Never ever give up on LOVE💙💙💙#lovewins", she wrote.
RECOMMENDED ARTICLES