Nigerian human rights activist and writer, Reno Omokri, has advised newly married couples against bringing their family members into their homes to live with them.
The former presidential aide opined that newlyweds may not be able to strengthen their bonds when they bring relatives to live with them.
According to him, this is a common error made by newlyweds that ends up ruining their marriages.
"Dear couples,
After your wedding, note that you need time to strengthen your marriage Union. If you bring in relatives to live with you, you may not be able to strengthen your bond. You need a house that is so free that both of you can chase each other naked around it, like Adam and Eve in the Garden of Eden.

This is how many homes are destroyed. Two imperfect people marry. Out of foolishness, they allow in-laws live with them from the get-go. The in-laws note the imperfection of the spouse not related to them, and inform their extended family, and just like that, your marital issues are extended and become family issues!" He wrote on Instagram.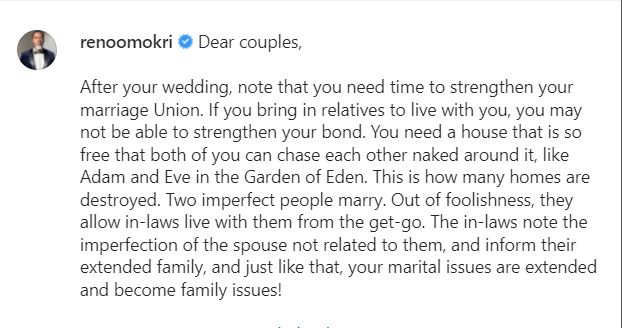 A while ago, Reno advised single men against giving their girlfriends money.
Reno who is popular for his nuggets on social media noted that it's not a boyfriend's duty to take up his girlfriend's financial responsibilities but her father's duty.
According to him, it's unwise for a man to allow himself be pressured into financing a woman he's not married to only because he's an amorous relationship with her.
RECOMMENDED ARTICLES