A Nigerian man who recently became a regulated Canadian immigration consultant (RCIC) has shared his inspiring journey.
The man identified as Rauf Obembe said he had already retired when his first daughter asked what he wanted to do next. She suggested that since he loves reading, he should consider becoming an immigration consultant, and he accepted the task.
According to him, the journey was not easy as he had to take courses, write necessary tests and exams, but he put in the work and is now an Immigration Consultant in Canada.
While sharing his story, he noted that age should not be a barrier to learning a new skill.
In his words,
"AGE SHOULD NOT BE A BARRIER TO LEARNING A NEW SKILL.
I was already on pension when my first daughter (a lawyer) asked me what wd I be doing now. I told her that I was still exploring several options, maybe go into another business. Then she suggested that since I love to read a lot, I should try to become a Regulated Canadian Immigration Consultant (RCIC). I initially demurred when I considered the hardwork involved, I later finally agreed to give it a shot. She and her brother gave me seed money to start the process.

However, to become a RCIC has several hurdles, in fact about 3. First, you have to go through an Immigration Academy to study Canadian Immigration processes. This is an online course that could take between 6 months and one year, depending on the level of intensity you choose. I did mine in one year (2020/21. Secondly, you have to pass English Language Test (IELTS) Academic, with scores up to 9 in each aspect (Reading, Listening, Speaking and Writing). I did this test 3 times before I could pass at acceptable level. Finally, the Licensing Exams. This exam contained about 140 questions on several aspects of Canadian Immigration practices, of which you must pass up to 80% grade. I did this exam twice before I could pass.

Meanwhile, along the line, there were several instances that I wanted to pack it up, our daughter, Mosunmola would not hear of it. She was always there, breathing down my neck, cajoling and encouraging me, calling me to be sure I was studying (she lives in Nigeria), reminding me of the rewards inherent in this new career I am embarking upon. Anytime I complained that I was wasting too much money on several tests, she would reimburse me some of the money I spent.

Well. after two years plus of rigorous studies and several tests, I received my License to practice as a RCIC (Regulated Canadian Immigration Consultant) two days ago. I extend my gratitude to my wife, my kids and some notable friends that kept encouraging me along the way.
Rauf Obembe (RCIC)
Ruffy Immigration Consultancy Services. Canada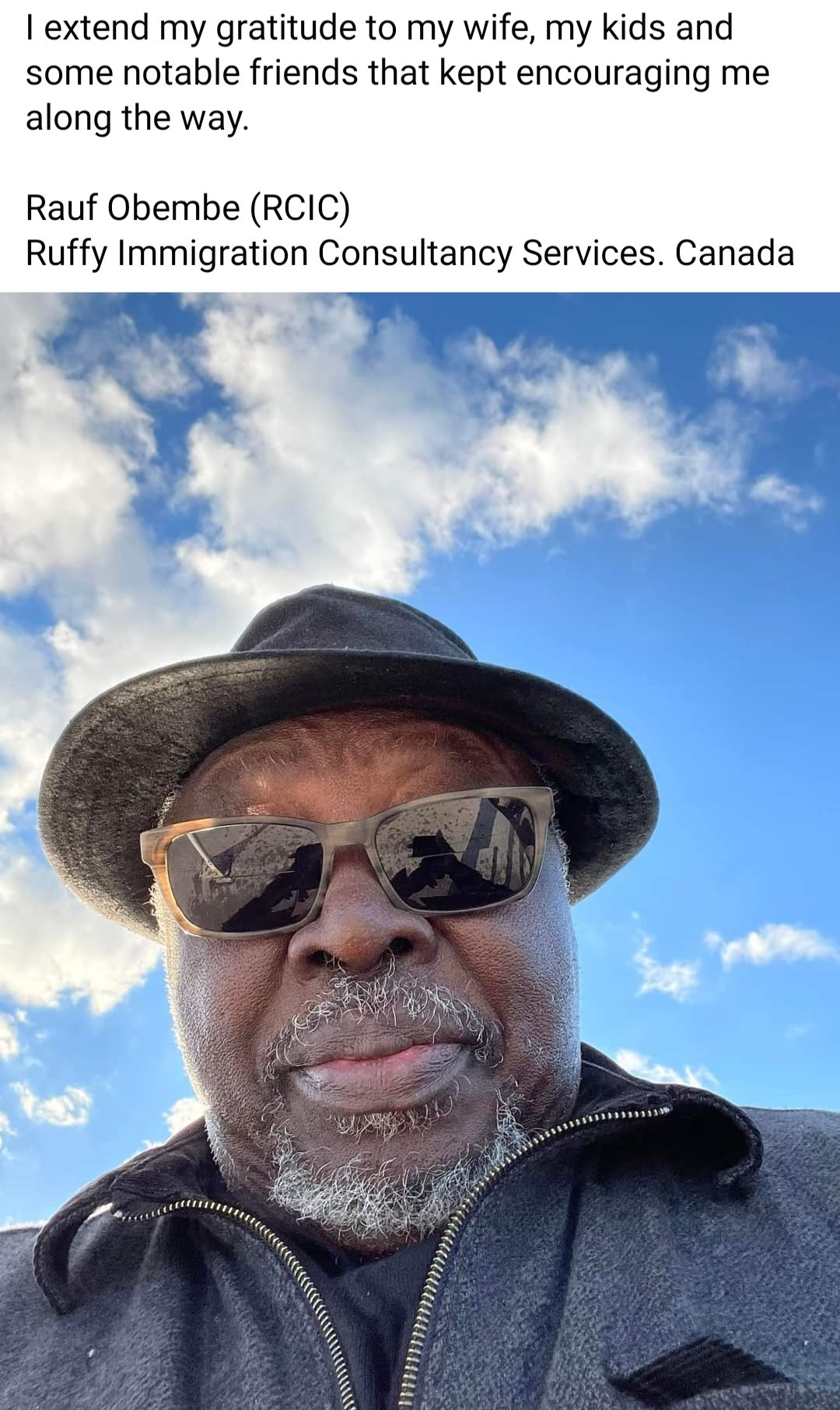 RECOMMENDED ARTICLES