A Twitter user has given his reason why he feels women who undergo cosmetic surgery to enhance their backside can never be faithful.
According to the gentleman, any lady who has gone through the entire arduous and painful process of cosmetic surgery isn't going through all that just because of one man's attention.
He says a lady who does cosmetic surgery is seeking all the attention she can get and it's definitely not from one man.
He wrote on his page,
"You'd be lying to yourself to think someone opened their eyes, went under the knife to have big Bum Bum, go through all that process only to come out and be with ONE Man. LMAO!

Doing yansh = I need all the attention I can get, I'm for the streetz.

It's that simple!"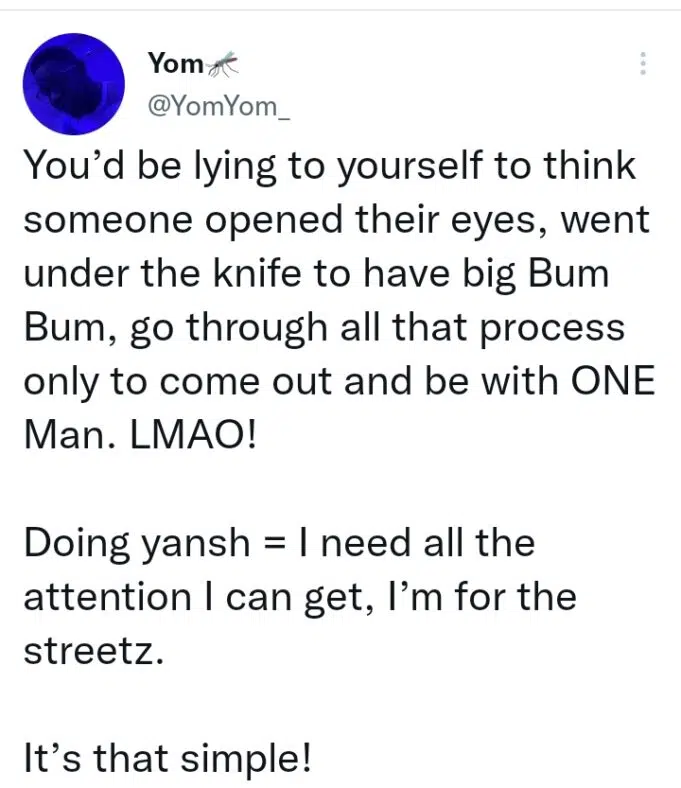 In related news, Nollywood actress, Nkechi Blessing, has shared her opinion about why women go under the knife to improve their physical features.
While it's a common misconception that women have cosmetic surgery to enhance their feminine looks in order to attract men, the curvaceous thespian asserted that this is not the truth.
Nkechi Blessing stated in a post via her Insta-stories that most women undergo plastic surgery to feel good about themselves and not because they want to please or attract men.
"Any man that does not like the shape of your body does not deserve you. Truth is most of this ladies doing surgery are not even doing it because of a man. Some just wants to up their game, look nice in bikinis or body con, and some just to feel good about themselves.. But listen there are other ways to cut down excess fat… Working out regularly helped a lot of people I know!!" She wrote.
RECOMMENDED ARTICLES