Veteran Nollywood actress, Rita Dominic, has opined that those who constantly seek the validation of others are insecure.
The thespian who made this assertion in an Instagram post noted that the constant need to be validated by others is a sign of insecurity.
She urged her fans and followers to be themselves without seeking the approval of others.
In her words,
"The constant need to be validated by others is a sign of insecurity. Just do you, simple."
See her post below,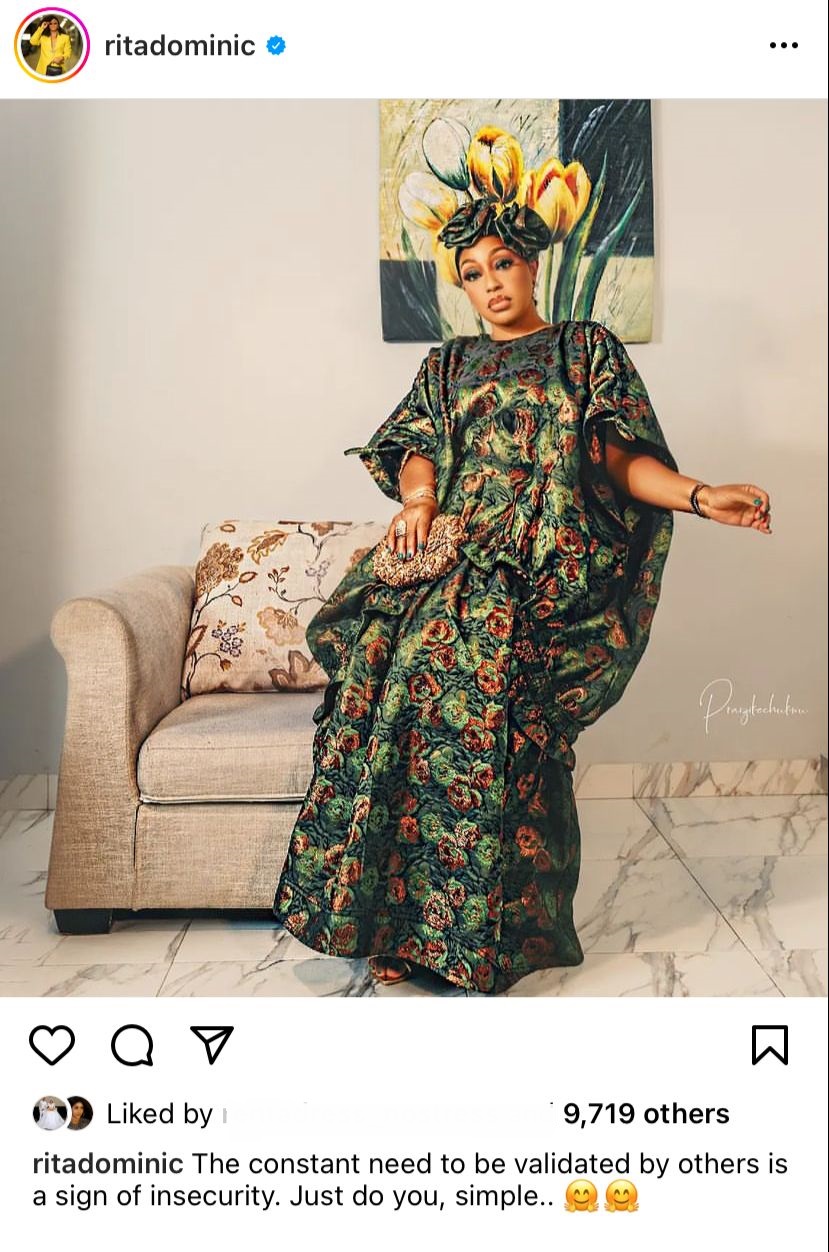 In related news, popular Nigerian singer and mother of one, Simi, has advised her fans and followers on the importance of self love.
Simi who was recently under fire on social media over a recent photo she shared on her Instagram page, in a lengthy write-up via her Insta-stories advised against seeking social media validation.
"Yo LOVE YOURSELF as you are!! Its great to do things for yourself that you want… But the moment you become consumed with looking or presenting yourself a certain way, so people that honestly, truly don't care about you on social media can tell you you're popping -it's only downhill from there.

Because you'll keep on giving up parts of your true self until there's nothing left. Its human nature. Please, I beg you. Let the most vulnerable version of you be enough. LOVE YOURSELF. VALIDATE YOURSELF. because you're enough. You will always be enough.

Nothing wrong with doing something that makes you happy, just make sure it's your approval you care about – not random peoples'.

I'm actually super concerned that young girls will have to work harder for a healthy self esteem. Because they'll be trying to live up to a standard that does not exist.

maybe today post a picture of yourself you think is too 'basic' for social media. Post a pic of yourself without a filter if you haven't in a long time. If not today, then tomorrow or the day after. Without filter and make up, it's funny how similar we are." She wrote.
RECOMMENDED ARTICLES