There was a mild drama at singer, Portable's restaurant in Sango Ota recently when an Instagram content creator played a prank on the singer.
An Instagram content creator, identified as Kopa Respect, was at Portable's restaurant and decided to pull a prank on the singer and his staff, sharing their hilarious reactions on social media.
Kopa Respect requested to be served with two drinks and turkey; however, after dining, he refused to pay.
Portable, who was at the eatery and had been observing the interaction between the prankster and his staff, stepped in and intervened.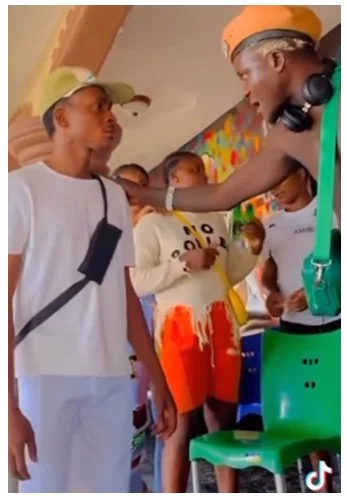 In the video that has since gone viral, Portable is seen questioning Kopa Respect over his refusal to pay his bill after eating at the restaurant.
Kopa Respect objected and said he wouldn't pay because the items on his bill and what he was served were entirely different.
After the back and forth, Portable decided to let the content creator leave without paying. Kopa Respect then acted like he wanted to go out, but he later confessed that it was a prank, which left everyone, including the singer, bursting into laughter.
Watch video below,
Reacting, @gf_xxo wrote, "As portable ya werey for real life. Naso he get good spirit. Kudos to him for handling the situation well even tho it's a prank ❤️🙌".
@queenofdsun, "Portable is nice, he literally told d guy to go. God bless him".
@ehicenella, "Potable is way calmer than I thought".
@jay_scotch_autos, "You get mind go prank werey Portable 😂".