Reality TV star, Natacha Akide popularly known as Tacha, has voiced her displeasure as she waits for the 2023 presidential election findings to be released.
The presidential election which took place a few days ago has stirred different emotions from Nigerians across the country.
Speaking on the election tension, Tacha shared a post where she expressed her restlessness and inability to sleep or focus on anything.
She went ahead to pray against those trying to frustrate the effort of Nigerians.
She wrote;
"The way I kept on turning on my bed all night! God! e no go better for anyone trying to frustrate Nigerians!! My eyes are heavy! heart is heavy! My tired is tired! since Saturday we conducted elections! where are the results?? I'm restless".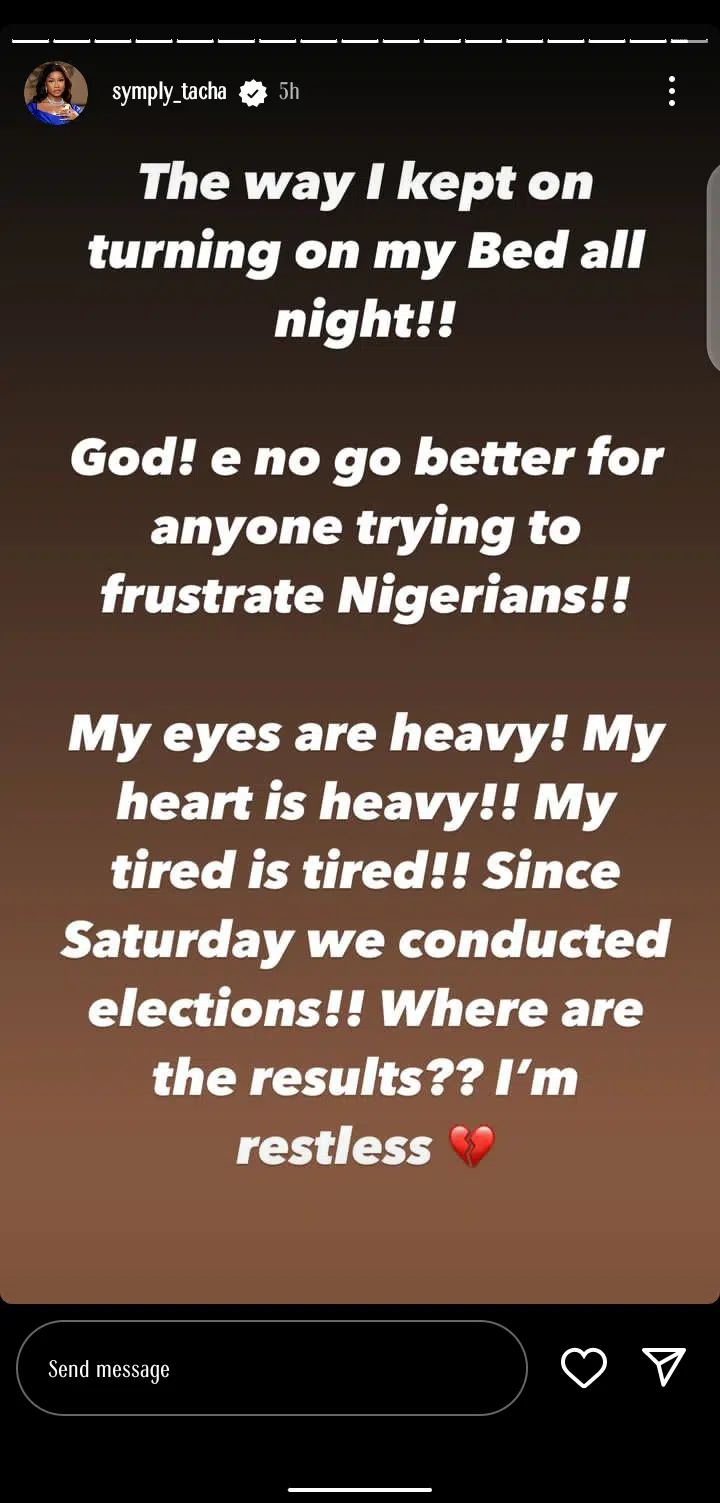 In other news, King West, the son of former NURTW chairman MC Oluomo, has got people talking with his congratulatory message to his dad, a staunch supporter of the presidential candidate of the All Progressive Congress (APC), Bola Tinubu.
While the results of the presidential elections that held on Saturday, February 25, are being collated at the National Collation Center in Abuja, and APC's Tinubu appears to be taking an early lead, King West shared a video of his father, Oluomo, and other APC supporters celebrating.
In his caption, West congratulated his dad and made reference to the Labour Party's presidential candidate, Peter Obi's victory in Lagos State.
According to West, the candidate of the All Progressive Congress, Asiwaju Bola Ahmed Tinubu, sacrificed Lagos so that he could win at the national level.
"Congrats Dad, You all sacrificed Lagos to win Nigeria", he wrote.