Popular music executive, Soso Soberekon has made a bogus claim that men who make good husbands don't have a big manhood.
He made this submission in a post shared on his Instagram page moments ago, while advising women on how to pick a partner.
According to him, when a woman meets a man who checks all of her boxes, she shouldn't look at the size of his penis because good husbands don't have big manhood.
Soso posted a photo of himself with the rather amusing caption that reads,
"When you finally get the good man you've been praying for, no look him preeq… Good husbands no dey get big preeq 🤣🤣"
See his post below,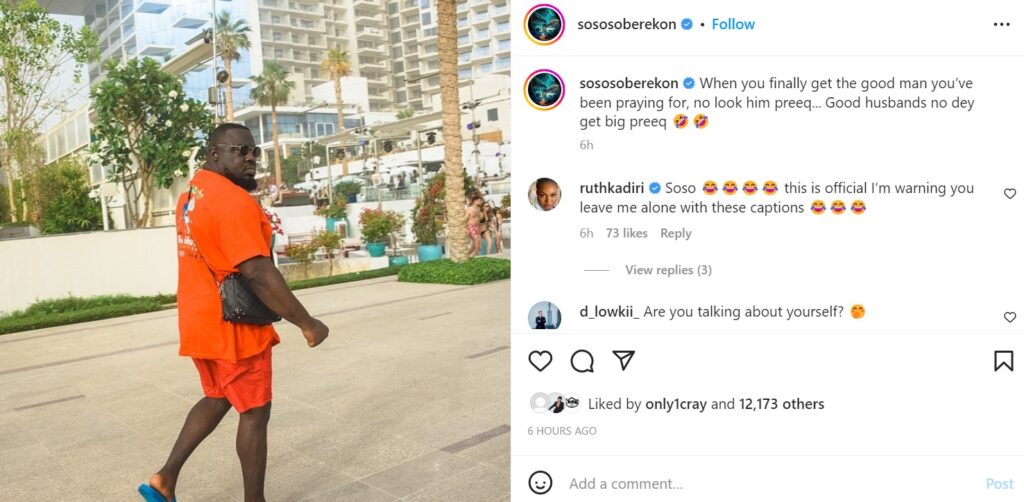 A while back, Soso Soberokon caused a stir after he flaunted his private part on the internet.
Taking to his Instagram page on Sunday, February 5, Soso posted a photo of himself in a brief while sipping a cup of tea. In the photo, he left very little to the imagination as his manhood was in full glare.
This comes weeks after singer, Harrysong, claimed he (Soso) has a 'small prick' during a heated online squabble.
In a seeming reaction to the claim, Soso, in his post, urged people to disregard the common notion that chubby guys have small genitals. He then backed up his statement with a photo of his 'manhood'.
He posted the racy photo and wrote, "Everything you've heard about chubby guys are all lies"