Popular reality TV star, Leo Da Silva, has berated Nigerians who are quick to insult people from wealthy backgrounds or who have supportive parents.
Leo Da Silva, in a tweet he shared on Wednesday, March 29, reminded Nigerians who do this that no one stopped their own parents from being wealthy or supportive.
"Insulting people because their parents are rich and support them is not the flex you think it is. No one stopped your own parents from being rich or supporting you. Instead they are fighting your uncles and aunts over family land." He wrote on Twitter.
See his post below.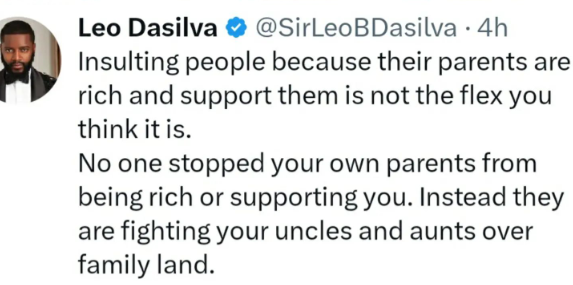 In other news, a Nigerian woman has sparked conversation online following her assertion on who has more rights in a couple's house, between the husband's mother and the wife's mother.
In a Facebook post that has now gone viral, the woman, a fashion model, told married women to understand that their husbands' mothers have more rights in their homes than their biological mothers.
According to her, the husband's mother has more rights in the house because the house belongs to her son.
She insinuated that the wife's mother has limited rights because she's a guest and should be treated as such.
"Realistically your husband's mother has more right in your house than your mother. Your mum is a guest! This is the truth even tho una no go gree but ogbasarom.
"Understanding boundaries means understanding that there are things your husband's mother will get away with in her son's house that your mother can't get away with." She wrote.