Popular Nollywood actress, Anita Joseph has knocked people who drag her online but try to act cool in person.
Sharing a video, Anita reprimanded people who engage in the detestable act as she wondered how one would troll on social media and want to smile with the same person when they meet in real life.
She wrote;
"Oburosoyi'na apu ala Shallom 🙋‍♀️
🤣🤣
You Troll someone on social media, and you see In Real Live you want to come and open your teeth eh "
Taaaanshi gbaluka dere osiso 🤣Shallom 🚶‍♀️🚶‍♀️"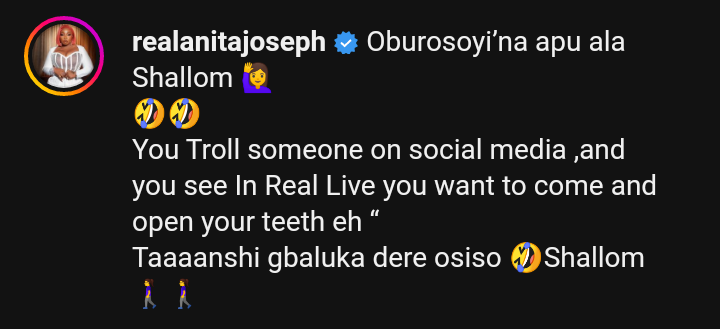 Watch the video below,
A while back, Anita Joseph responded to a womb-watcher who advised her to get pregnant for her husband, Michael Fisayo, popularly known as MC Fish.
The troll gave this advise while responding to the actress' birthday post dedicated to her husband who turned a new age.
Reacting, the nosy troll took to the comment section to advise her to have kids for her husband.
"Please get pregnant for him and bear him sons and daughters man, I pray God will make it come to pass, Amen", the troll commented
A fan quickly came to Anita's defense and lambasted the troll for being insensitive.
"Na cus of this rubbish comment make am no too dey post em children for here. Once you open your mouth waaaa odor everywhere," he wrote.
In response to the remark, the thespian wrote, "It is well"