Nollywood actress, Ruby Ojiakor has called out her colleague and industry friend, Sarraphina Amaechi, after the latter destroyed her car over a little misunderstanding.
In a video posted on Ruby's Instagram page, she was seen driving in her car when she almost collided with Sarraphina.
Sarraphina, who visibly wasn't in a good mood, flared up—she came down from her car and dashed towards Ruby while asking why she almost hit her car.
While Ruby was still trying to explain to Sarraphina that she was joking, Sarraphina, who wasn't having it, pulled an iron rod from her car and smashed the former's windscreen.
Sharing the video online, Ruby expressed shock at Sarraphina's reaction to her harmless joke.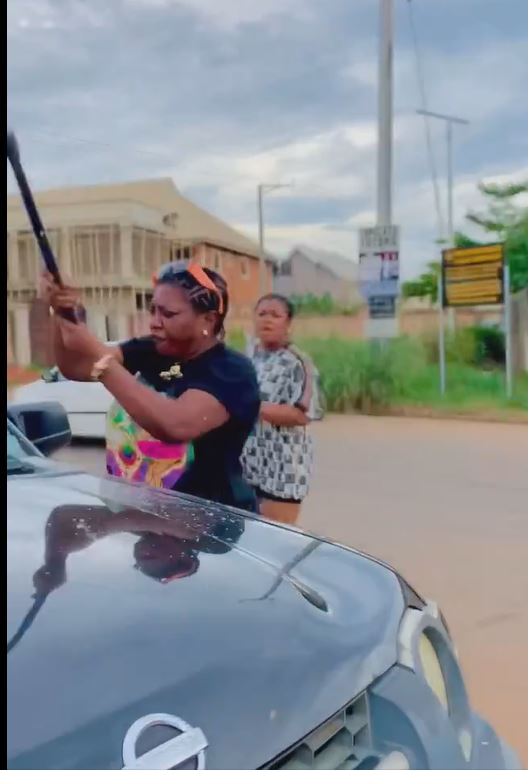 "This just happened now Nd I'm still in total shock, pls advise me. @sexysarraphina_ Pls explain to the world exactly what I did to you cuz I was only joking with you" Nd you know it….." She captioned the video.
Watch below,
In other news, Big Brother Naija star, Bella Okague has unfollowed her colleague and friend, Phyna, on Instagram.
It all started after Phyna took to her Twitter page to address those sending her loved-up photos of Bella and her love interest, Sheggz, to mock her single status.
She issued a stern warning to the trolls while reiterating that she's a "one-man squad" and doesn't need a man "to do her."
Her words,

"I have been on my cool since, myself, Bella and sheggz are really cool friends how dare you come to my dm sending me pictures of Bella and sheggz insulting me with it Bla bla bla, I'm forever a one man squad, I don't need a man to do me, u people should leave me alone please".
While the tweet was addressed to trolls, tweeps opined that it seemed like a shade to her friend, Bella.
Apparently, the tweet also didn't sit well with Bella, who immediately unfollowed Phyna on Instagram.
After Bella unfollowed Phyna, she took to her Twitter handle to apologize and clear the air that the tweet was not a shade at her.
She explained that she will never troll Bella, as she's one of the few people who regard her as a friend.